A buildup to Midsummer Mayhem!
It has been a bit of a mixed week. Some of us are starting holidays and others have other obligations that has meant that last weeks progress was  less eventful than previous weeks.
Renceed finished some heavy AA guns before hitting the beach:

Here is the "making of" video:
We're gearing up our social media pages so that anybody interested in the project can stay up to date with what we're doing:
A weekly blogpost to our Website (badbunch.net), Gamedev.net (https://bit.ly/2XlfZhU), and IndieDB (https://bit.ly/2ZAMCps).
Twitter (https://twitter.com/BunchBad) is being invigorated for additional posts during the week.
And of course our Discord (https://discord.gg/8KQuC9) is where people can get a lot of the info firsthand, usually in a post from the team member that created the content.
Tallying up what we need have left before we open up the development build to the public the main two things we need are; 1) a larger map to host more players 2) testing multiplayer with as many people from a single region as we can get.
There are rumors of super secret groups of gamers that have signed up to playest the next build version and help show where the largest network synch sins are, as well as how easy/hard it is to figure out the controls and other gameplay details. But we'd of course have to deny that such event is taking place.
Very early concept of a map by the great Joel K. This stuff it too early in the design process to be balanced, so changes to the layout will happen:

Air mines are awesome!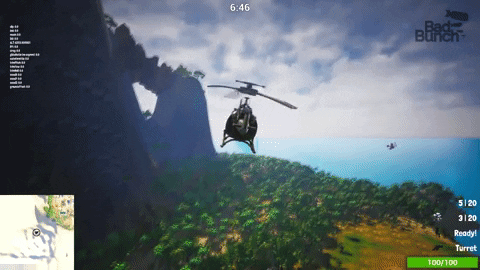 End